Cycling Stopwatch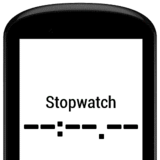 This is a simple stopwatch that runs as a data field on your Edge device, and runs independently of any other timers. After you start your activity, tap the screen whenever you want to start or stop the stopwatch. The only setting is a switch to choose between two modes of operation:
If continuous mode is selected, each tap on the screen resets the timer to zero but immediately starts timing. You might use this to time a series of intervals 20s,30s,40s without any gaps in between
If continuous mode is not selected, each tap on the screen either starts or stops the timer. You might use this to see how long it takes you to travel between two points.
I hope you like it. If you have any problems, please use the "Contact Developer" link to let me know and I will do my best to fix them. And if you find you love it, I will always appreciate a good review!
If you find this is useful to you, please consider helping me to keep updating it by sending the price of a cup of coffee to https://www.paypal.me/GDCSoft
and quote "Cycling Stopwatch" so that I know what it's for.
And finally
If you find you love it, please leave a favourable review here . If you encounter any problems or have any questions, please email me details at garmin@gdcsoft.com.