Cadence Field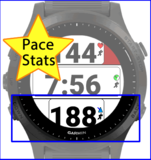 In free mode, this is a nice, simple cadence field designed to fit with a large font in any watch or computer layout and that you can toggle between black background / white background. If you want more, purchase a code from here to enable pacing support with display of cadence target range, to customise all colours and also to store a number of stats detailed below.
Free features
Display cadence in an easily readable display.
Select between four themes - black background, white background, monochrome black and monochrome white.
Premium features
Below target, background is dark green
Above target, background is dark red
All colours are editable / configurable to suit your needs
Set sport specific targets for each of swim, bike, run and other
Store and review stats after your activity at session, lap and per second basis
SETTING CADENCE RANGE
Ranges are specified as a target number and a percentage range. The range can be specified to have the target at the bottom, in the middle or at the top.
For example, if you set a range of 20% with a target of 150;
"Slowest is target" range will be 150 to (150 + 20%); 150 to 180 spm
"Middle is target" range will be (150 - 10%) to (150 + 10%); 135 to 165 spm
"Fastest is target" range will be from (150 - 20%) to 150; 120 to 150 spm
SETTING COLOURS:
(Does not apply to monochrome devices eg: Edge 130.)
Choose a colour for each of the display settings or set "Use default" to use the coded colour.
Settings overwrite the chosen theme so you can have colours even in "monochrome" themes.
And finally
If you find you love it, please leave a favourable review here . If you encounter any problems or have any questions, please email me details at garmin@gdcsoft.com.