Discordian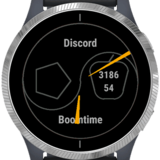 The absence of a Discordian watch-face was wholly unacceptable. So I built one.
If you find this is useful to you, please consider helping me to keep updating it by sending the price of a cup of coffee to https://www.paypal.me/GDCSoft
and quote "Discordian" so that I know what it's for.
Free features
Simple analogue clock
Display Discordian date or Gregorian date
Fully configurable for colour
Option to use holy day names or normal day names
Pentagon is filled on Discordian holy days.
And finally
If you find you love it, please leave a favourable review here . If you encounter any problems or have any questions, please email me details at garmin@gdcsoft.com.