HIIT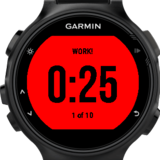 A range of timers to support your HIIT and other interval workouts.
HIIT Timer is a straightforward workout timer to manage warm-up, repeat n sets of x intervals, cooldown
HR Timer offers HR-based interval definition
Pyramid HIIT offers vastly configurable workouts with multiple intensities and any combination of timings
All three offer highly visible stage management and haptic feedback with buzzes to countdown and buzzes at each transition.
There are DataField and App versions of HIIT and Pyramid HIIT to allow you to work out either stand-alone or directly in a Garmin activity.
HOW TO USE IT
Configure your workout in settings using one of the Garmin apps, for example, Garmin Express, Garmin Connect Mobile or Garmin ConnectIQ Mobile.
Launch the App on your watch.
Press "Start" to start your workout.
You can use "Start" button again to pause / resume your workout if you need to.
If you press "Back" / "Lap" twice in quick succession when not paused, you advance to the next segment.
If you press "Back" / "Lap" when either paused or in finished state, you will close the HIIT Timer.