HIIT (App)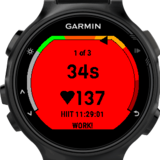 This is a timer to guide you through a HIIT workout and warn you of each transition. You can specify colours, notification style, all durations, and repeat numbers. In addition, if you double click the "Lap" button, you can skip to the next item.
Please follow the payment instructions in the app to unlock HIIT (App).
Epix users ONLY: For Epix, please follow the instructions here instead.
Free features
The first workout is free so that you can try it out. After that, a code will display on your screen. You will need to enter the code on https://kzl.io/ and make a one-time payment of USD 2.49 to continue using the app. Unlock requires a one-time Internet connection. Please synch with your phone if you see a "waiting for server" message.
HOW TO USE IT
Configure your workout in settings using one of the Garmin apps, for example, Garmin Express, Garmin Connect Mobile or Garmin ConnectIQ Mobile.
Launch the App on your watch.
Press "Start" to start your workout.
You can use "Start" button again to pause / resume your workout if you need to.
If you press "Back" / "Lap" twice in quick succession when not paused, you advance to the next segment.
If you press "Back" / "Lap" when either paused or in finished state, you will close the HIIT Timer.
And finally
If you find you love it, please leave a favourable review here . If you encounter any problems or have any questions, please email me details at garmin@gdcsoft.com.