HIIT Timer (DataField)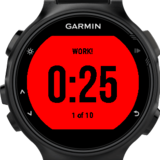 This is a nice timer to support HIIT style work outs. The field will take you through a timed series of intervals and notify you at each transition. You can specify the colours, the style of notification, all durations and all repeat numbers. Also, if you click the "lap" button twice in two seconds, you can skip to the next element. Display will guide you through the workout and also tell you time remaining in each stage.
Please follow the instructions here to unlock this product.
Free features
First workout is free, after that you need to follow the payment instructions in app settings.
HOW TO USE IT
This is a DataField. Before first use, you need to add it to a DataScreen.
Configure your workout in settings using one of the Garmin apps, for example, Garmin Express, Garmin Connect Mobile or Garmin ConnectIQ Mobile.
Launch the App on your watch.
Press "Start" to start your workout.
You can use "Start" button again to pause / resume your workout if you need to.
If you press "Back" / "Lap" twice in quick succession when not paused, you advance to the next segment.
And finally
If you find you love it, please leave a favourable review here . If you encounter any problems or have any questions, please email me details at garmin@gdcsoft.com.