Dialistic CIQ1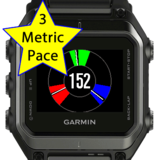 A powerful visual pacer that allows you to track up to three metrics simultaneously. You can choose any three from speed/pace, power (requires power meter), cadence and heart rate.
This is the CIQ1 version of Dialistic, for newer devices we recommend: Dialistic
If you find this is useful to you, please consider helping me to keep updating it by sending the price of a cup of coffee to https://www.paypal.me/GDCSoft
and quote "Dialistic CIQ1" so that I know what it's for.
Free features
Up to three dials tracking three different metrics simultaneously
Configurable targets for each dial
Display targets on start-up
Central field can be either lap number or dial value
Choose colour theme (black background, white background)
Customise colours for dial target range
And finally
If you find you love it, please leave a favourable review here . If you encounter any problems or have any questions, please email me details at garmin@gdcsoft.com.