Pyramid HIIT (Data Field)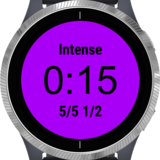 This is a configurable timer to support complex HIIT style work outs like pyramid, multi-intensity and many more. Features include:
Multiple intensity levels
Customize all display
Stage summary screen
Stage progress screen
Stage countdown screen
Workout progress graphed in Garmin Connect
Please follow the instructions here to unlock this product.
Free features
First workout is free, after that you need to follow the payment instructions in app settings.
HOW TO USE IT
\r\n
\r\n
Install the data field on your Garmin and add it to a data screen for your activity.
\r\n
Configure your workout in settings using one of the Garmin apps, for example, Garmin Express, Garmin Connect Mobile or Garmin ConnectIQ Mobile.
\r\n
Start the activity on your device.
\r\n
Follow the screens and notifications to complete your workout.
\r\n
If you press \"Lap\" twice in quick succession when not paused, you advance to the next segment.
\r\n
And finally
If you find you love it, please leave a favourable review here . If you encounter any problems or have any questions, please email me details at garmin@gdcsoft.com.