Roundular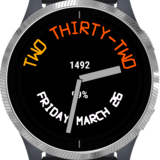 A simple analogue watch face with a curved text design.
Please follow the payment instructions in the app for Roundular
Premium features
Full customisation of colours
Two display fields, your choice of battery level, calories, steps, active minutes today, active minutes this week
Text displayed in curved text across the top of the watch face
Date displayed in curved text across the bottom of the watch face
And finally
If you find you love it, please leave a favourable review here . If you encounter any problems or have any questions, please email me details at garmin@gdcsoft.com.