Pyramid HIIT (App)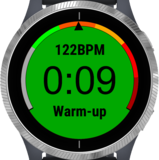 This is a configurable timer to support complex HIIT style work outs like pyramid, multi-intensity and many more. Features include:
Save up to 10 named profiles
Choose from 9 sports
Multiple intensity levels
Customize all display
Heartrate display dial
Stage summary screen
Stage progress screen
Stage countdown screen
Workout progress graphed in Garmin Connect
Please follow the payment instructions in the app to unlock Pyramid HIIT (App).
Epix users ONLY: For Epix, please follow the instructions here instead.
Free features
First workout is free, after that, you need to follow the payment instructions in the app.
HOW TO USE IT
Configure your workout in settings using one of the Garmin apps, for example, Garmin Express, Garmin Connect Mobile or Garmin ConnectIQ Mobile.
Launch the App on your watch.
Press "Start" to start your workout.
You can use "Start" button again to pause / resume your workout if you need to.
If you press "Back" / "Lap" twice in quick succession when not paused, you advance to the next segment.
If you press "Back" / "Lap" when either paused or in finished state, you will close the Super HIIT Timer.
CONFIGURING WORKOUTS
Workouts are defined as a series of comma separated strings in the format "LABEL:DURATION" for work segments or "DURATION" for warm-up, cool-down and recovery segments.
DURATION may be expressed as either a number of seconds or minutes:seconds. For example, one-and-a-half minutes may be expressed as either "90" or "1:30".
LABEL is used to find the intensity level by comparing it against the items for each level. (See below.)
DEFINING INTENSITIES
Each intensity is defined by comparing the LABEL against the items listed in settings for that intensity. You can have multiple items separated by a comma for each intensity.
For example, if you specify easy items as "Jog,Walk" then workout stages of "Jog:1:34" and "Walk:50" will both be recognised as Easy.
AN EXAMPLE PYRAMID WORKOUT
A simple-pyramid might be defined as "Easy:60,30,Hard:40,30,Intense:20" to give a workout:
60 seconds easy
20 seconds recovery
40 seconds hard
20 seconds recovery
20 seconds intense
And finally
If you find you love it, please leave a favourable review here . If you encounter any problems or have any questions, please email me details at garmin@gdcsoft.com.