Timing Clock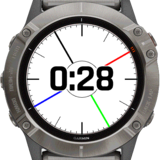 In free mode, this is simply a visual timing clock or pacer as you might see on the wall of your local swimming pool. A quick glance allows you to time gaps between intervals. Premium mode unlocks a range of other features, including choosing a display value from around 30 metrics and setting all colours.
Please follow the instructions here to unlock this product.
Free features
Four arms sweep the clock allowing you to time intervals at a glance
Premium features
All the free features, plus display settings, your choice of about thirty metrics and the ability to display current minute/second indicators.
SUPPORTED DISPLAY VALUES
Swim timer / time in lap
Elapsed time M:S
Elapsed time H:M
Elapsed time H:M:S
Power (watts)
Average power (watts)
Max power (watts)
Current cadence
Average cadence
Max cadence
Current heart rate
Average heart rate
Max heart rate
Elapsed distance (Km)
Current speed (KPH)
Average speed (KPH)
Max speed (KPH)
Pace (min/100m)
Pace (min/km)
Pace (min/5km)
Elapsed distance (Miles)
Current speed (MPH)
Average speed (MPH)
Max speed (MPH)
Pace (min/100yd)
Pace (min/mile)
Pace (min/5mile)
Altitude (m)
Ascent (m)
Descent (m)
Calories
Calories per minute
SETTING COLOURS:
(Does not apply to monochrome devices eg: Edge 130.)
Choose a colour for each of the display settings or set "Use default" to use the coded colour.
Settings overwrite the chosen theme so you can have colours even in "monochrome" themes.
And finally
If you find you love it, please leave a favourable review here . If you encounter any problems or have any questions, please email me details at garmin@gdcsoft.com.