Triple Dial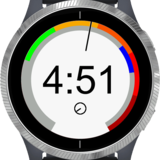 One datafield:
Speed / pace
Heartrate
Cadence*
Runs on everything

(* Cadence requires a cadence meter such as foot-pod, HR-Run strap or cadence sensor.)

Please follow the instructions here to unlock this product.

And finally

If you find you love it, please leave a favourable review here . If you encounter any problems or have any questions, please email me details at garmin@gdcsoft.com.