Dali-Esque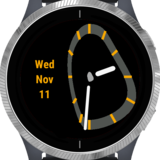 A nice simple analogue... that melted.
Please follow the payment instructions in the app for Dali-Esque
Premium features
Optional date
Full colour configuration
Optional seconds display
Three different flavours of always on display for Venu and AIR watches
And finally
If you find you love it, please leave a favourable review here . If you encounter any problems or have any questions, please email me details at garmin@gdcsoft.com.