Runs on Everything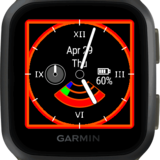 An analog clock face that runs on everything.
Please follow the payment instructions in the app to unlock Runs on Everything.
CIQ1 watches ONLY: If your watch is D2™ Bravo, D2™ Bravo Titanium, epix™, fenix® 3, fenix® 3 HR, tactix® Bravo, quatix® 3, Forerunner® 230, Forerunner® 235, Forerunner® 45, Forerunner® 630, Forerunner® 920XT, Garmin Swim™ 2 or vívoactive® please follow the instructions here instead.
Premium features
Analog clock display
Goal reached notification display
Configurable display (limited on CIQ1, everything on CIQ2+)
Date display
Configurable battery display
Steps progress bar
Calorie progress bar with configurable target setting
Seconds display (CIQ2+)
Floors climbed progress bar (CIQ2+ except 735xt and S60)
Weekly active minutes progress bar (CIQ2+)
Always on display (Venu) with choice between digital and analogue
And finally
If you find you love it, please leave a favourable review here . If you encounter any problems or have any questions, please email me details at garmin@gdcsoft.com.