Runs on Everything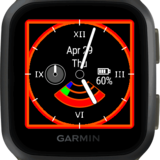 An analog clock face that runs on everything.
Please follow the payment instructions in the app for Runs on Everything
Premium features
Analog clock display
Goal reached notification display
Configurable display (limited on CIQ1, everything on CIQ2+)
Date display
Configurable battery display
Steps progress bar
Calorie progress bar with configurable target setting
Seconds display (CIQ2+)
Floors climbed progress bar (CIQ2+ except 735xt and S60)
Weekly active minutes progress bar (CIQ2+)
Always on display (Venu) with choice between digital and analogue
And finally
If you find you love it, please leave a favourable review here . If you encounter any problems or have any questions, please email me details at garmin@gdcsoft.com.