COVID Distance (W)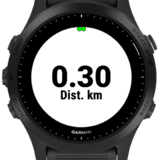 For those of us with a limit placed on how far from our homes we are allowed to go, this will buzz or sound a tone when you exceed a distance from the start specified in settings. Supports metric and imperial units.
If you find this is useful to you, please consider helping me to keep updating it by sending the price of a cup of coffee to https://www.paypal.me/GDCSoft
and quote "COVID Distance (W)" so that I know what it's for.
And finally
If you find you love it, please leave a favourable review here . If you encounter any problems or have any questions, please email me details at garmin@gdcsoft.com.