Tide and Heart Graph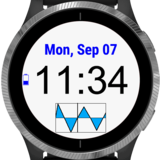 A digital watch with optional tide graph or heart graph.
Please follow the payment instructions in the app for Tide and Heart Graph
And finally
If you find you love it, please leave a favourable review here . If you encounter any problems or have any questions, please email me details at garmin@gdcsoft.com.